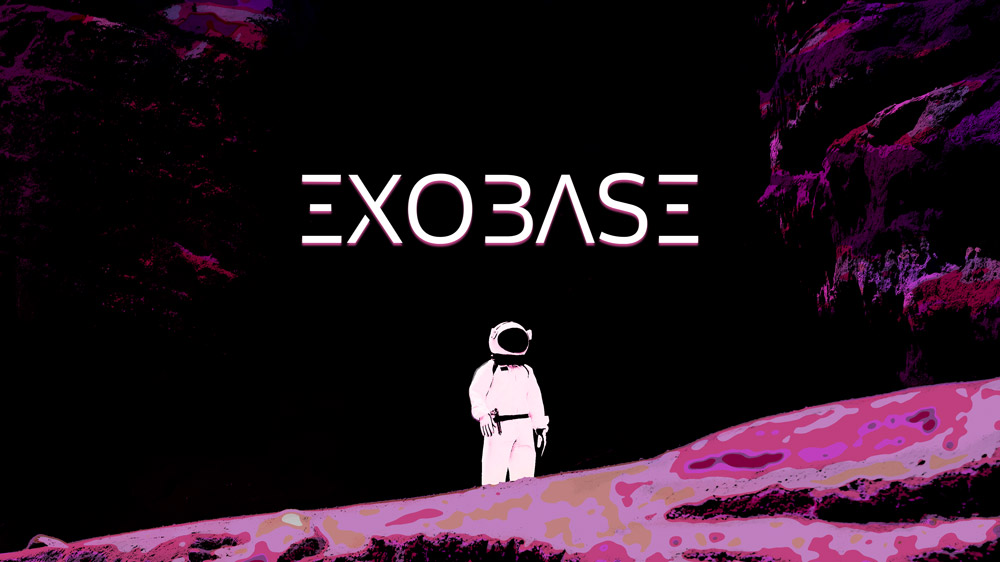 ExoBase - micro solo base-builder
Physical version available on The Game Crafter
You have landed with 3 other specialists on a distant planet; future home of a new civilization. You've barely set up the core of your base when a proximity alarm sounds — an incoming meteorite storm is on course to obliterate your new base! You might just have time to activate the shield generator...

ExoBase is a small-box, solo, card-based worker placement game that challenges you and your team to build a self-sustaining base in the hostile environment of a distant exoplanet.
Shortly after breaking ground, you discover incoming metorites that will pulverize your base in a matter of days if it is not strong enough to sustain a shield generator.
Each round, move founders to different cards to build, upgrade, or work a location. Working a location produces resources which are used to build new locations, or upgrade existing ones in your base.
The goal: build a self-sustaining base that can power the shield generator before the meteorites destroy your new home.
1-minute trailer
Learn to play in 8 minutes
Full playthrough
Community
Join our Discord server to chat about this game, or sign up for newsletter updates.
Components
8 pages (4 double-sided sheets; 28 cards)
8 coloured pawns for founders: red, yellow, green, blue, orange, purple, black, white.
3 six-sided dice (D6)
8mm cube tokens:
Scenarios
I am working on several scenarios that expand the game through alternate setups and goals. The first one is available below. Enjoy!
Purchase
In order to download this card game you must purchase it at or above the minimum price of $2 USD. You will get access to the following files:
ExoBase-PNP.1.5.6.pdf
11 MB
Download demo
Comments
Log in with itch.io to leave a comment.
If there a printer friendly version...less black?
I used to have one but it got to be a bit too much to maintain two versions during development. And unfortunately I don't have time to re-make the low-ink version now. Sorry!
looking forward to giving it a try.