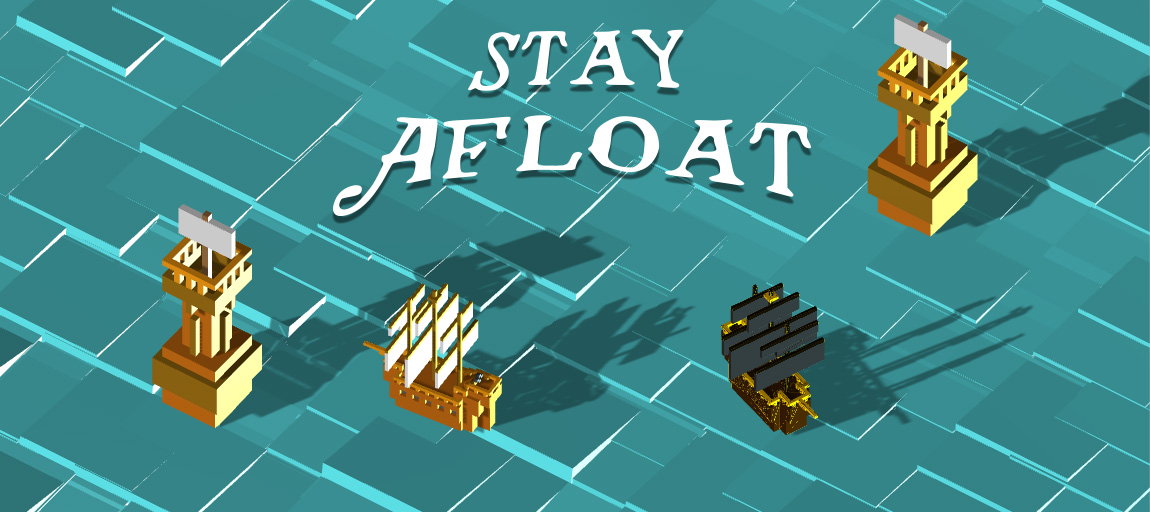 Stay Afloat
A downloadable game for Windows and macOS
Stay Afloat is a co-operative game of sinking pirate ships. Only you have the ability to keep your partner afloat; shoot life preservers at their ship to heal it. Collect as many coins as you can before sinking.

Inspiration
Since having kids, I've thought a lot about how most games are competitive, and are primarily about destroying/killing/defeating things — or each other! Stay Afloat is my attempt to turn that around, and still have a game that is interesting, challenging and fun. A co-operative game encourages players to interact and communicate with each other in ways that other games don't.
The other piece of inspiration for this game was a stop-motion short film I saw years ago (I can't find it online any more). It was about two wind-up robots who had the task of getting themselves out of a sealed brick room. One would work for while, and before it would wind down completely, it would wind up its partner. Eventually one of them got greedy and tried to do too much, and didn't have enough energy to wind up the other, and so they both ended lifeless.
It was a very striking picture of interdependence that has stayed with me, and shaped the core mechanic of this game. You require action from the other player to survive.
Made for a Game Jam
Stay Afloat did double-duty for PegJam2016 and Simple Jam (five assets, five rules):
Five Assets:
Ship model
Tower model
Heart
Coin
Five Rules:
WASD/Shift to move & shoot for P1, Arrows/Alt to move & shoot for P2.
Your ships are constantly sinking; if one ship sinks, the game ends.
Shoot your partner's ship to "heal" it.
Pick up a coin to gain a point.
Coins only stick around for 5 seconds, then reappear elsewhere.
Music: Generously provided by Whitaker Trebella. Hear more of his music (and hire him for your own games!) here: http://wtrebella.bandcamp.com/

Sound Effects: Generously provided by Julian Beutel.
Artwork: Made by me with ephtracy's MagicaVoxel.
Game engine: Unity.
Comments
Log in with itch.io to leave a comment.
i love it thx for makeing it
Tried to play this with my friend. He didn't like it. I think he had issues with the movement honestly. That and he had no idea what to do...

Hey, thanks for giving it a try, guys! Sorry you didn't enjoy it more...! :P It was a jam game, so it was made pretty quickly. If you had any suggestions on how to make it better, I'd be happy to hear them. :)